South of Scotland Digital Learning Hub
Posted on: February 13, 2020, by : Abbey Thomson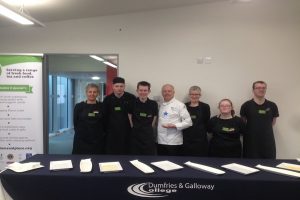 Yesterday Trainees from The Usual Place took part in the official opening of the new digital hub at Dumfries & Galloway College. Young people made and served canapes to invited guests and met the Deputy First Minister, John Swinney, MSP. Young people talked about their achievements, hopes and plans for the future.
This was such an important moment for young people from The Usual Place. We regularly talk about government for everyone and The Usual Place's part in working for a fairer Scotland. Deputy First Minister made sure every young person's voice was heard and acknowledged their important contribution. Moments such as this really help in enabling young people with additional support needs to recognise their equal worth, value and potential.
Deputy First Minister officially opened the hub along with Dumfries and Galloway College Principle Joanna Campbell. This was linked live with Minister for Fair Work & Skills, Jamie Hepburn MSP and Borders College Principal, Angela Cox, at the Campus in Galashiels as well as students at Stranraer College Campus. As part of the £6.7m investment from South Scotland Economic Partnership the new digital hub enables students in rural areas to connect digitally and through this attend College from one of the many digitally connected spokes across south Scotland.