Knitting Natters 16/10/19
Posted on: October 16, 2019, by : Abbey Thomson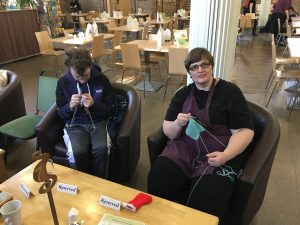 This week's Knitting Natters meeting is underway.
The Knitting Natters are an inclusive group of people who meet at The Usual Place every Wednesday between 2pm and 3.30pm.  Everyone is welcome to drop in at any time to either knit something of their own or just to have a coffee and a chat.  Why don't you come along next time?
Bronwyn and Luke are concentrating on their creations, and we can't wait to see what they make!