Moving On, Megalicious
Posted on: February 6, 2020, by : Abbey Thomson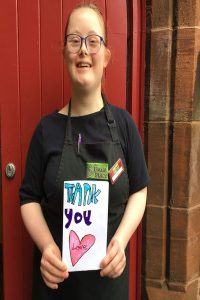 On the 31st of January, trainee Meg Ayres completed her last day at The Usual Place.  Meg has worked incredibly hard to achieve her goals with us and through her time at The Usual Place she has become fully qualified in professional cookery and hospitality services, through a rigorous external process via Dumfries and Galloway College.
Meg will be moving on to exciting new ventures as she becomes a businesswoman, running her own gluten-free café – Megalicious.  With the support of Prince's Trust for Learning and Business Gateway, Meg has been enabled to develop her business planning and development.
You can keep up with Meg and her business successes by following her on Facebook at www.facebook.com/megaliciousfood.