Tea Dance – October
Posted on: October 18, 2019, by : Abbey Thomson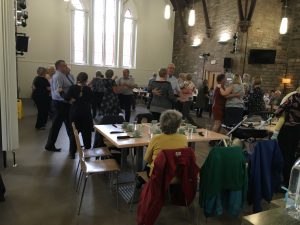 Today's Tea Dance was another success.
Attendees were able to dance to John Caskie and William McRobert's traditional ceilidh music all afternoon, with a break at half-time to refresh themselves with a mug of tea or coffee.  Also on offer were a range of fresh scones, traybakes and sandwiches to re-energise to keep on dancing.
We hope that our attendees enjoyed their time at the Tea Dance and that they might join us again.
Tickets are now available for the next dance on Friday 22nd November at £3.00 each.  Tickets are available from The Usual Place premises on Academy Street, or by contacting us at admin@theusualplace.org or on 01387 253485.