Pride O' Worth Winners!
Posted on: November 18, 2019, by : Abbey Thomson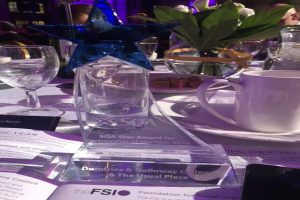 On Friday 15th November, Heather, Craig, Tony and Liz attended the SQA Star Awards ceremony at Kelingrove Art Museum.
As you may have seen, we were nominated some weeks ago in the category of Partnership of the Year alongside Dumfries and Galloway College, which we won!
Not only did we win in our category, we also won the Pride O' Worth Award as the overall winner of all centres.  This is the highest accolade offered during the SQA Star Awards.
These wins are extremely important to us as The Usual Place is just one step along our young people's journey in life, a very helpful one we hope.
When we work closely with other similarly values based organisations, close to young people's social, educational and vocational ambitions, the steps young people need to take are to achieve their personal ambitions and potential are closer together and easier to navigate. There is less chance that young people will slip between the gaps or falter in their journeys.
The Usual Place and Dumfries and Galloway College are just part of the overall picture and this award belongs to all our young people who have led the way in delivering this partnership and everyone in the wider partnerships supporting our young people's achievements.
Thank you to everyone who has made this possible.