We are Open!
Posted on: September 1, 2020, by : Abbey Thomson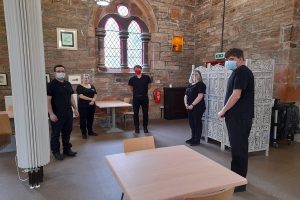 Despite changes in many areas, from our operating hours to the way customers must now enter the building, The Usual Place is once more able to open it's doors to our customers.
We would first like to thank our customers for their continued support throughout these unprecedented times.  We know that our opening has been long-awaited among the community.
We would also like to give a huge thank you and well done to all of our trainees, staff and volunteers who have worked very hard in the past weeks to allow us to re-open as the safe and warm place we have always been.
The first job for staff on their return was to write new processes for every area of the business, a vital part in enabling our trainees to return to work.  These processes were designed to ensure that The Usual Place would be Covid-Secure going forward.  This time was also used in part to reflect upon our previous processes, and highlight any areas in which we could improve to ensure the best possible quality of service was being met.
Following this, The Usual Place underwent a deep clean to ensure that the building was brought back to our very high standards of cleanliness.  The cafe was also rearranged to adhere to social distancing guidelines – staff ensured that 1m of distance was maintained between each seat.
When we, as a team, felt that it was safe enough, the trainees were invited to return to work.  Though many were a little nervous about returning after so long away, staff and volunteers were able to talk them through the new processes and re-assure them, and it didn't take long for the trainees to feel more at ease.
Now, all staff, trainees and volunteers are feeling very positive moving forward.  Many of us are glad to find a new sense of normal.  We hope that when you visit us – whether for your lunch or just for a cuppa and a catch up – that you feel the same way:  safe, warm and positive.
The following gallery shows some of the work staff have completed to make our re-opening a reality.