School Pupils Last Day
Posted on: November 27, 2019, by : Abbey Thomson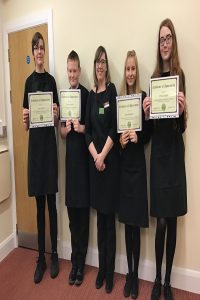 For the past several weeks, school pupils Dana, Lewis, Connor and Chloe have been gaining work experience at The Usual Place.
The students have gained experience in all aspects of our cafe – working in the kitchen to prepare our meals, serving hot drinks and pastries and displaying customer service skills at front of house, helping with facilities and gaining retail experience in our store.
Today, this experience came to an end for our students and they were presented with Certificates of Thanks.
We would like to thank Dana, Chloe, Connor and Lewis for all of their help and say a massive well done for all they have accomplished!  We hope to see them again soon.