Scottish Diversity Awards
Posted on: January 28, 2019, by : Abbey Thomson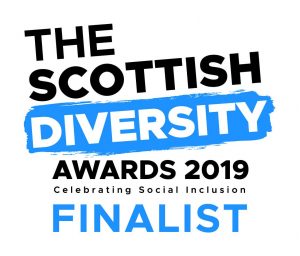 After a brilliant start to the day, we end our day on a very happy note too! We had a phone call to advise us that The Usual Place has been shortlisted for a Scottish National Diversity Award, 2019.
The Award we have been shortlisted for is, Disability Champion of the Year 2019.
We were both surprised and delighted by this news, and that person/s unknown to us regard The Usual Place to be worthy of a nomination.
We are very proud of all our Team Members. Who together daily champion the citizenship and employability potential of all our young people and their contribution to making The Usual Place a great place to be whether you are enjoying a meal, attending an event, training, working or volunteering with us.
Thank you so much from The Usual Place Team